NVIDIA DGX H100
NEW
The World's Proven Choice for Enterprise AI
NVIDIA DGX H100 powers business innovation and optimisation. The latest iteration of NVIDIA's legendary DGX systems and the foundation of NVIDIA DGX SuperPOD™, DGX H100 is an AI powerhouse that features the ground breaking NVIDIA H100 Tensor Core GPU. The system is designed to maximise AI throughput, providing enterprises with a highly refined, systemised, and scalable platform to help them achieve breakthroughs in natural language processing, recommender systems, data analytics, and much more.
Download the PDF datasheet for the DGX H100.
Looking for more details? Check out our blog post for a deep dive into the revolutionary DGX H100.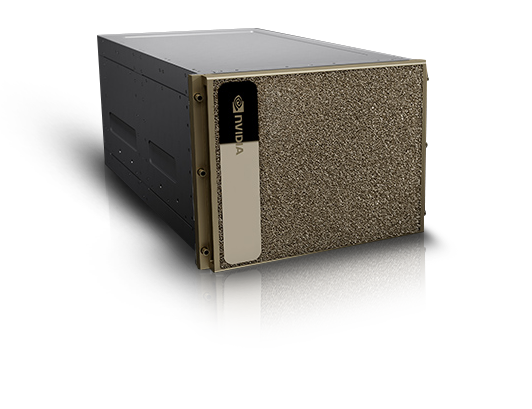 NVIDIA DGX H100
8x NVIDIA H100 Tensor Core GPUs
Specifications
GPU Memory
NVIDIA DGX H100
640GB total
Specifications
Performance
NVIDIA DGX H100
32 petaFLOPS FP8
Specifications
NVIDIA NVSwitch™
Specifications
System Power Usage
NVIDIA DGX H100
~10.2kW max
Specifications
System Memory
Specifications
Networking
NVIDIA DGX H100
8x Single-PNetworking 4x OSFP ports serving 8x single-port NVIDIA ConnectX-7
400Gb/s InfiniBand/Ethernet
2x dual-port NVIDIA BlueField-3 DPUs VPI
1x 400Gb/s InfiniBand/Ethernet
1x 200Gb/s InfiniBand/Ethernet
Specifications
Management network
NVIDIA DGX H100
10Gb/s onboard NIC with RJ45
50Gb/s Ethernet optional NIC
Host baseboard management controller (BMC) with RJ45
2x NVIDIA BlueField-3 DPU BMC (with RJ45 each)
NVIDIA DGX H100
OS: 2x 1.9TB NVMe M.2
Internal Storage: 8x 3.84TB NVMe U.2
Specifications
System software
NVIDIA DGX H100
DGX H100 systems come preinstalled with DGX OS, which is based on Ubuntu Linux and includes the DGX software stack (all necessary packages and drivers optimised for DGX).
Optionally, customers can install Ubuntu Linux or Red Hat Enterprise Linux and the required DGX software stack separately.
Specifications
Operating Temperature Range
NVIDIA DGX H100
5–30°C (41–86°F)