NVIDIA® DGX Station™
The NVIDIA® DGX Station™ brings the incredible performance of an AI supercomputer in a workstation form factor that takes advantage of innovative engineering and a water-cooled system that runs whisper-quiet. The NVIDIA® DGX Station™ packs 500 TeraFLOPS of performance, with the first and only workstation built on four NVIDIA® Tesla® V100 accelerators, including innovations like next generation NVLink™ and new Tensor Core architecture.
This ground-breaking solution offers:
3x the performance for deep learning training, compared with today's fastest GPU workstations
100x in speed-up on large data set analysis, compared with a 20 node Spark server cluster
5x increase in I/O performance over PCIe-connected GPU's with NVIDIA® NVLink technology
The DGX Station supports the latest NVIDIA® containersation tools, including docker engine and NVIDIA® drivers which support a complete stack of diverse AI and ML toolsets. The integrated hardware and software stack of the NVIDIA® DGX Station™ means you are up and running in hours, not days. Shorten your time to insight now.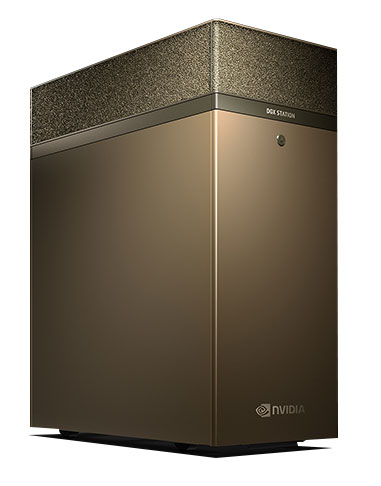 NVIDIA® DGX Station™
4X Tesla V100
Specifications
TFLOPS (GPU FP16)
Specifications
GPU Memory
NVIDIA® DGX Station™
64 GB total system
Specifications
NVIDIA® Tensor Cores
NVIDIA® DGX Station™
2,560
Specifications
NVIDIA® CUDA® Cores
NVIDIA® DGX Station™
20,480
NVIDIA® DGX Station™
Intel® Xeon® E5-2698 v4 2.2 GHz (20-Core)
Specifications
System Memory
NVIDIA® DGX Station™
256 GB LRDIMM DDR4
NVIDIA® DGX Station™
Data: 3X 1.92 TB SSD RAID 0
OS: 1X 1.92 TB SSD
NVIDIA® DGX Station™
Dual 10 Gb LAN
NVIDIA® DGX Station™
3X DisplayPort, 4K resolution
NVIDIA® DGX Station™
< 35 dB
Specifications
System Weight
NVIDIA® DGX Station™
88 lbs / 40 kg
Specifications
System Dimensions
NVIDIA® DGX Station™
Depth: 518mm
Width: 518mm
Height: 639mm
Specifications
Maximum Power Requirements
NVIDIA® DGX Station™
1,500 W
Specifications
Operating Temperature Range
NVIDIA® DGX Station™
10–30 °C
NVIDIA® DGX Station™
Ubuntu Desktop Linux OS
DGX Recommended GPU Driver
CUDA Toolkit