Enquire about this solution
NVIDIA Cumulus Linux (SDN)
Software Defined Networking (or SDN) is an approach to network management that allows for dynamic, programmatic, control of network fabrics. The core pieces of the network are the same, but software control of switches allows for centralised management and more efficient allocation of data paths in your fabric. Current generation SDN also includes data acceleration and optimisation as part of the switch control. SDN can be within proprietary eco-systems, or in open source, Linux based Open Network eco-systems.
Open Networking Solutions are based on open standard, bare-metal hardware with a choice of independent open source software for NOS (Network Operating Systems), virtualisation, and cloud orchestration. For years, hyper-scale data centre operators have been enjoying the benefits of Open Networking Solutions: reduced network equipment expenses, automated and accelerated provisioning of network capacity and services, greater control over the development of enhanced network services, flexibility to work with best-in-class suppliers, and reduced operating expenses.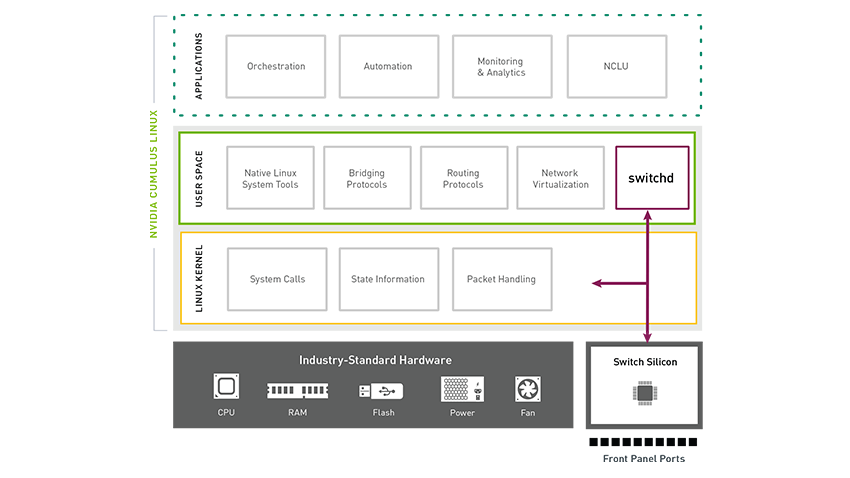 The purpose of SDN is to reduce cost and improve user experience by automating the full range of network services, from end user through to the network element. Principles that promote this include the decoupling of control from traffic processing and forwarding, centralization of control, and the ability of customers and applications to interact directly with network control.
XENON recommends NVIDIA® Cumulus® Linux to deliver innovative open networking solutions, and XENON has delivered a large number of Cumulus solutions for small and large networks. With NVIDIA Cumulus Linux, you can use any bare metal switch and any app to automate, operate and scale your business.
Learn more about NVIDIA Cumulus Linux networking solutions or contact a XENON network specialist to learn more about how Open Networking solutions could benefit your network operations.
Talk to a Solutions Architect