Enquire about this solution
Metamako Switches
Metamako specialises in solutions for latency sensitive businesses.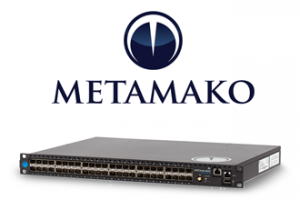 The founders, Scott Newham, Dave Snowdon and Charles Thomas, have extensive experience engineering high-performance hardware and software for financial markets, in particular algorithmic trading and other users for whom keeping latency to a minimum is vitally important. Metamako's engineering team brings together a wealth of skills and experience in digital hardware design (Boards, FPGA, ASIC), PCB design, embedded software (kernel, drivers, applications), low-level networking and full product lifecycle from design to manufacturing and support.
MetaConnect's high performance signal recovery and regeneration makes it possible to use a range of lower-cost third-party SFP/SFP+ modules (refer to our FAQ). You are not locked into a single supplier. MetaConnect's state of the art signal integrity circuitry means that it can use almost any SFP/SFP+ including long-range multi-mode (LRM) as well as passive and active direct-attach copper cables, which can deliver significant cost savings.