Enquire about this solution
NVIDIA InfiniBand VPI Adapter Cards
NVIDIA InfiniBand Host Channel Adapters (HCAs) provide the highest performing interconnect solution for Enterprise Data Centres, Web 2.0, Cloud Computing, High-Performance Computing, and embedded environments.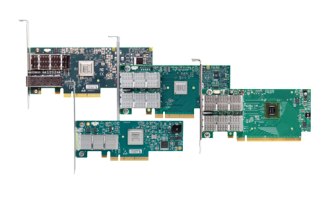 Clustered data bases, parallelized applications, transactional services and high-performance embedded I/O applications will achieve significant performance improvements resulting in reduced completion time and lower cost per operation.
XENON can supply the full range of VPI cards, including the ConnectX-3, ConnectX-4, ConnectX-5 and ConnectX-6 range of cards.
Talk to a Solutions Architect