Managed Services for Artificial Intelligence
XENON Provides an extensive range of Managed Services across the artificial intelligence infrastructure stack as well as complex HPC environments.
Artificial intelligence infrastructure is unique combination of high power compute across CPU and GPU, high speed storage and equally high speed fabric. Clashing components, network latency, or insufficient capacity at any point along the way can derail your AI workloads. XENON designed, develops and deploys complex artificial intelligence infrastructure – and we are also provide ongoing management of the environment when commissioned. This allows your team to get on with the work of developing and implementing their AI models, without having to deal with any infrastructure issues. You get the ease of a managed service and the cost benefits and containment of an on-prem solution.
These unique compute ecosystems require specialist skills that understand the all the component parts as well as their interrelations and co-dependencies.
Talk to a Solutions Architect
Learn More
Learn more about XENON's Professional Services for AI.
Download the full brochure
Learn How to Get Started in AI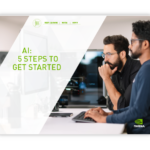 Click on the thumbnail to download the report.
If you are early in your AI journey, Download this eBook from NVIDIA and XENON – How to Get Started in AI. It explains how the software stack scales across the NVIDIA platforms, the learning models, and how to start your AI journey. A great resource that will help you make sense of the AI landscape.