Data is Valuable, Now and Forever
Data is valuable, for many companies it is the defining value. Data is also an inherent risk factor, as fines and potential lawsuits for data breaches are real and significant.
Data retention requirements vary widely based on the type of data, and the perceived value now and the ability to unlock new value from the data in the future. Many organisations are able to create real business value from existing data. For example, medical research applications are able to re-examine genetic sequencing data for new insights. In oil and gas, and mining applications, 2D and 3D seismic scans and data from geological surveys can be reprocessed, potentially unlocking new discoveries of oil and gas or mining reserves and saving money on data acquisition.
Typically in organisations XENON works with archival data is the largest data set they manage.
How do you prepare for infinite data retention?
As the quantity of archival data has increased dramatically, and the value of that data has been unlocked, it is important to store and mange it in a robust way that preserves the data, makes it easy to find again, and easy to retrieve, and easy to secure.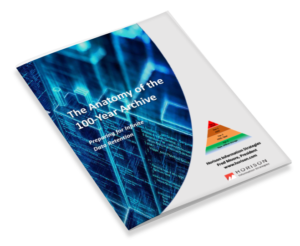 This simple set of considerations leads to a range of options, in many dimensions:
Protection of the data – multiple physical locations are necessary, and decisions about managing multiple copies, backups, or using erasure coding are considerations in data protection.
Your equipment or cloud, third party services?
Physical media – what is the data stored on – disk, tape are the main choices, but optical media and emerging DNA media are on the horizon. What is the lifespan of the media and how is it managed over the data lifecycle?
Managing the data – Software can be to manage, catalogue, move it between tiers and organise the data? Open source or open format?
Security – Securing access and maintaining security protocols, strategies for air-gapping data for protection from ransomware.
Horison Information Strategies looks at these issues and more in this report, The Anatomy of the 100-Year Archive, Planning for Infinite Data Retention. Please complete the form below and the white paper will be emailed to you. Contact XENON to discuss how to implement archive best practice.