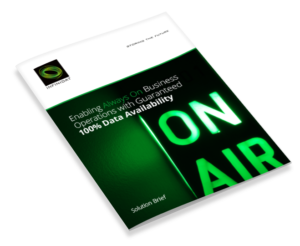 INFINIDAT ensures you build and maintain customer loyalty through 'Always On' business operations
Until now, 'Always On' infrastructure solutions were too slow and too expensive for enterprises to widely adopt them for anything other than a small subset of their most critical apps.
That changes with the new, 'Always On' InfiniBox cluster which makes the leap from 7 nines (99.99999%) to 100%. With the 'Always On' InfiniBox cluster, enterprises can adopt a cost-effective, low-latency 'Always On' solution that enables more services to remain available to their customers through any solution failure.
Read Infinidat's solution brief and find out how the InfiniBox 'Always On' cluster protects your organisation.
Fill out the form to get your copy today!