NVIDIA A40 Tensor Core GPU
The new NVIDIA® A40 Tensor Core GPU with the new NVIDIA Ampere Architecture delivers increased performance and flexibility for a range of AI and HPC workloads. The NVIDIA A40 is ideal for visualisation, design, creative work, scientific challenges across data analytics, HPC and AI. The NVIDIA A40 is fast and ready for virtualisation – allowing for the power of the NVIDIA A40 to be shared from the Workstation or Server. All components of the A40 have been optimised for speed and processing power – from the PCIe Gen4, to new generation RT and Tensor cores, to faster NVLink® to combine and amplify the power of the NVIDIA A40.
XENON is delivering bespoke solutions based on the PCIe Gen4 with the NVIDIA A40, in servers and workstations across the XENON NITRO Workstation family, and the XENON RADON Intel Servers, and XENON KRYPTON AMD Servers.
Get a Quote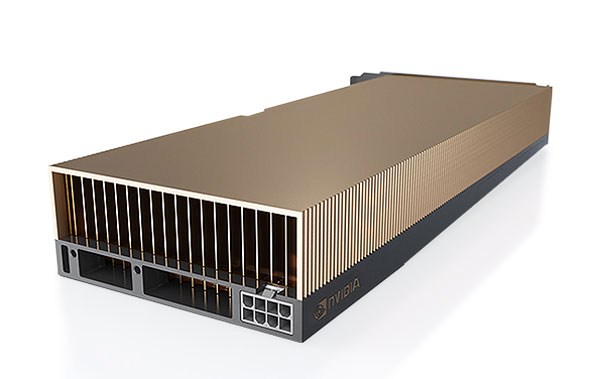 NVIDIA A40 Tensor Core GPU
Specifications
GPU Memory
NVIDIA A40 Tensor Core GPU
48 GB GDDR6 with error-correcting code (ECC)
Specifications
GPU Memory Bandwidth
NVIDIA A40 Tensor Core GPU
696 GB/s
Specifications
Interconnect
NVIDIA A40 Tensor Core GPU
NVIDIA NVLink® 112.5 GB/s (bidirectional) PCIe Gen4 16 GB/s
NVIDIA A40 Tensor Core GPU
2-way low profile (2-slot)
Specifications
Display Ports
NVIDIA A40 Tensor Core GPU
3x DisplayPort 1.4*
A40 is configured for virtualisation by default with physical display connectors disabled. The display outputs can be enabled via management software tools
Specifications
Max Power Consumption
NVIDIA A40 Tensor Core GPU
300 W
Specifications
Form Factor
NVIDIA A40 Tensor Core GPU
4.4" (H) x 10.5" (L) Dual Slot
NVIDIA A40 Tensor Core GPU
Passive
Specifications
vGPU Software Support
NVIDIA A40 Tensor Core GPU
NVIDIA GRID®, NVIDIA Quadro® Virtual Data Center Workstation, NVIDIA Virtual Compute Server
Specifications
vGPU Profiles Supported
NVIDIA A40 Tensor Core GPU
1 GB, 2 GB, 3 GB, 4 GB, 6 GB, 8 GB, 12 GB, 16 GB, 24 GB, 48 GB
Specifications
NVENC | NVDEC
NVIDIA A40 Tensor Core GPU
1x | 2x (includes AV1 decode)
Specifications
Secure and Measured Boot with Hardware Root of Trust
NVIDIA A40 Tensor Core GPU
CEC 1712
Specifications
NEBS Ready
NVIDIA A40 Tensor Core GPU
Level 3
Specifications
Power Connector
NVIDIA A40 Tensor Core GPU
8-pin CPU