XENON eXtreme RX991i G3
NEW
Intel® Core™ i9 Raptor Lake 24Core system with overclocking of the new PCores with XENON proprietary BIOS – delivering up to 5.8GHz across the PCores with various ECores active as well. Combined with XENON closed loop liquid cooling, this complete 2RU system is engineered and tested so every part works in harmony to deliver a consistent overclocked speed with low latency. Choose your speed and expansion cards, and build your trading infrastructure for today and tomorrow's volatile markets.
XENON's eXtreme Server Solutions are:
Designed specifically for low latency algorithmic trading by selecting best of breed components.
Designed for maximum performance with safely overclocked processors and memory.
Tested extensively for durability to ensure 24 x 7 operating time.
A scalable architecture with predictable performance that adjusts to meet business requirements.
Equipped to handle extremely volatile periods of market activity without loss or downtime.
Compact 2 Rack Unit (RU) design.
Backed by 24 x 7 Global Onsite Warranty Support Options.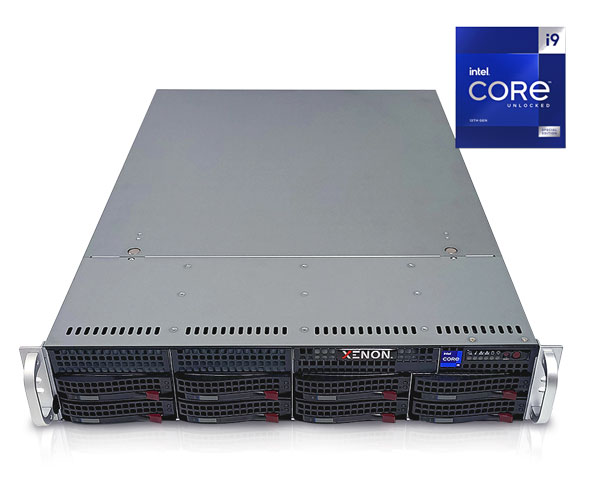 XENON eXtreme RX991i G3 | 5.8GHz Solo 2U HFT Server
XENON eXtreme RX991i G3 | 5.8GHz Solo 2U HFT Server
Intel i9-13900KS 24Core
Additional active ECore options available
Up to 5.8GHz on the PCores
XENON eXtreme RX991i G3 | 5.8GHz Solo 2U HFT Server
Intel® Z790
XENON eXtreme RX991i G3 | 5.8GHz Solo 2U HFT Server
64GB or 128GB DDR5 4800 MT/s Non-ECC DIMM
XENON eXtreme RX991i G3 | 5.8GHz Solo 2U HFT Server
Closed Loop Cooler
Model Number
Expansion Slots
XENON eXtreme RX991i G3 | 5.8GHz Solo 2U HFT Server
2 x PCIe 5.0 x16 Low Profile slots (supports one x16 or two x8/x8 cards)
Model Number
Storage Expansion
XENON eXtreme RX991i G3 | 5.8GHz Solo 2U HFT Server
4 x PCIe 4.0 M.2 slots
Model Number
Storage Controller
XENON eXtreme RX991i G3 | 5.8GHz Solo 2U HFT Server
8 x SATA 6Gb/s
XENON eXtreme RX991i G3 | 5.8GHz Solo 2U HFT Server
10GbE and 2.5GbE
XENON eXtreme RX991i G3 | 5.8GHz Solo 2U HFT Server
1200W Titanium Redundant PSUs
Model Number
Remote Management
XENON eXtreme RX991i G3 | 5.8GHz Solo 2U HFT Server
IPMI
Model Number
Support & Warranty
XENON eXtreme RX991i G3 | 5.8GHz Solo 2U HFT Server
1 Year Silver Return to Base Limited Parts and Labour Warranty