NVIDIA's Jetson TX2 Developer Kits are now available at XENON.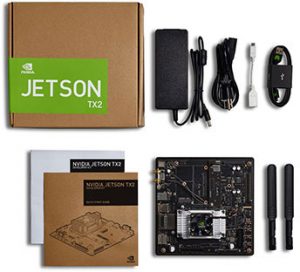 The Jetson TX2 Developer Kit gives you a fast, easy way to develop hardware and software for the Jetson TX2 AI supercomputer on a module. It exposes the hardware capabilities and interfaces of the developer board, comes with design guides and other documentation, and is pre-flashed with a Linux development environment. It also supports NVIDIA Jetpack—a complete SDK that includes the BSP, libraries for deep learning, computer vision, GPU computing, multimedia processing, and much more.
Promotion Price
$1,190 inc GST
Note** Educational Discounts are Applicable – Please ask us about them.
For more information please contact us.
Get a Quote
SPECIFICATIONS:
Model
JETSON TX2 MODULE
FEATURES

NVIDIA Pascal™ Architecture GPU
2 Denver 64-bit CPUs + Quad-Core A57 Complex
8 GB L128 bit DDR4 Memory
32 GB eMMC 5.1 Flash Storage
Connectivity to 802.11ac Wi-Fi and Bluetooth-Enabled Devices
10/100/1000BASE-T Ethernet

JETSON CAMERA MODULE

5 MP Fixed Focus MIPI CSI Camera

BUTTONS

Power On/Off
Reset
Force Recovery
User-Defined

I/O

USB 3.0 Type A
USB 2.0 Micro AB (supports recovery and host mode)
HDMI
M.2 Key E
PCI-E x4
Gigabit Ethernet
Full-Size SD
SATA Data and Power
GPIOs, I2C, I2S, SPI, CAN*
TTL UART with flow control
Display Expansion Header*
Camera Expansion Header*

*I/O expansion headers: refer to product documentation for header specification.

POWER OPTIONS
KIT CONTENTS

NVIDIA Jetson TX2 Developer Board
AC Adaptor
Power Cord
USB Micro-B to USB A Cable
USB Micro-B to Female USB A Cable
Rubber Feet (4)
Quick Start Guide
Safety Booklet
Antennas to Connect to Wi-Fi-Enabled Devices (2)