Experience new levels of AI speed and scale with NVIDIA® DGX™-2, the first 2 petaFLOPS system that combines 16 fully interconnected GPUs for 10X the deep learning performance. It's powered by NVIDIA® DGX™ software and a scalable architecture built on NVIDIA NVSwitch, so you can take on the world's most complex AI challenges. For more information  please get in touch with us.
Talk to a Solutions Architect
Core Benefits
Unbeatable Compute Power for Unprecedented Training
AI is getting increasingly complex and demands unprecedented levels of compute power. NVIDIA® DGX-2 packs the power of 16 of the world's most advanced GPUs to accelerate new AI model types that were previously untrainable. Plus, it enables groundbreaking GPU scalability, so you can train 4X bigger models on a single node with 10X the performance of an 8-GPU system.
A Revolutionary AI Network Fabric
With DGX-2, model complexity and size are no longer constrained by the limits of traditional architectures. Now, you can take advantage of model-parallel training with the NVIDIA NVSwitch networking fabric. It's the innovative technology behind the world's first 2-petaFLOPS GPU accelerator with 2.4 TB/s of bisection bandwidth, delivering a 24X increase over prior generations.
AI Scale on a Whole New Level
Modern enterprises need to rapidly deploy AI power in response to business imperatives. DGX-2 delivers a ready-to-go solution that offers the fastest path to scaling up AI. DGX-2 simplifies speed of scaling-up AI with flexible networking options for building the largest deep learning compute clusters, combined with virtualisation features that enable improved user and workload isolation in shared infrastructure environments. With an accelerated deployment model and an architecture purpose-built for ease of scale, your team can spend more time driving insights and less time building infrastructure.
Enterprise-Grade AI Infrastructure
AI is critical to your business, so you need the peace of mind that comes from a platform designed for high reliability, availability and serviceability (RAS). DGX-2 is purpose-built for RAS to reduce unplanned downtime, streamline serviceability and maintain operation continuity. DGX-2 is enterprise-grade, supported by NVIDIA expertise, and built for the rigor of around-the-clock operations to keep your most important AI endeavours running.
Core Features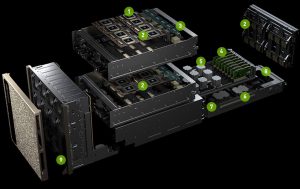 NVIDIA® TESLA V100 32GB, SXM3
16 TOTAL GPUS FOR BOTH BOARDS, 512GB TOTAL HBM2 MEMORY
Each GPU board with 8 NVIDIA Tesla V100.
12 TOTAL NVSWITCHES
High Speed Interconnect, 2.4 TB/sec bisection bandwidth.
8 EDR INFINIBAND/100 GbE ETHERNET
1600 Gb/sec Bi-directional Bandwidth and Low-Latency.
PCIE SWITCH COMPLEX
TWO INTEL XEON PLATINUM CPUS
1.5 TB SYSTEM MEMORY
DUAL 10/25 GbE ETHERNET
30 TB NVME SSDS INTERNAL STORAGE