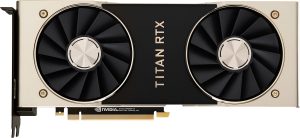 NVIDIA® TITAN RTX™ is the fastest PC graphics card ever built. It's powered by the award-winning Turing™ architecture, bringing 130 Tensor TFLOPs of performance, 576 tensor cores, and 24 GB of ultra-fast GDDR6 memory to your PC.
TITAN RTX graphics cards are powered by the Turing GPU architecture and the all-new RTX platform. This gives you up to 6X the performance of previous-generation graphics cards with the power of real-time ray tracing and AI.
See the latest RTX range here. 
Get a Quote
Ultimate performance in a spectacular design
1. FAN
Dual 13-blade fans produce 3X higher airflow and ultra-quiet acoustics.
2. TITAN RTX NVLINK™ BRIDGE
Double the effective GPU memory capacity to 48 GB and scale performance up to 100 GB/s in total bandwidth of data transfer using the new NVIDIA NVLink™ technology.
3. NVIDIA TURING GPU
TITAN RTX accelerates photorealistic ray-tracing with 72 RT Cores, AI workflows with 576 Tensor Cores, and parallel computing with 4608 NVIDIA CUDA® cores for developers, researchers, creators, and enthusiasts.
4. GDDR6 MEMORY
24 GB of ultra-fast GDDR6 memory provides up to 672 GB/s of memory bandwidth for greater throughput and to handle larger datasets.
5. POWER SUPPLY
The all new 13-phase iMON DrMOS power supply delivers more headroom and sub-millisecond power management for maximum overclocking.
6. VAPOR CHAMBER
This full-card vapor chamber is 2X larger to maximise heat spreading and heat transfer to the finstack.
7. COVER
A forged and machine-finished diecast aluminum cover with diamond-cut edge detailing provides a rigid, lightweight frame for an open design with beautifully smooth, continuous curves.
8. VIRTUALLINK
The VirtualLink™* connector simplifies connectivity by meeting the power, display, and bandwidth demands of the next-gen HMD devices to support more immersive experiences.
*In preparation for the emerging VirtualLink standard, Turing GPUs have implemented hardware support according to the "VirtualLink Advance Overview". To learn more, visit http://www.virtuallink.org.
9. DISPLAYPORT 1.4 8K @60 Hz
Drive ultra-high resolutions of up to 8K @ 60 Hz from a single link.