NVIDIA's Jetson TX2 makes AI computing possible within cameras, sensors and more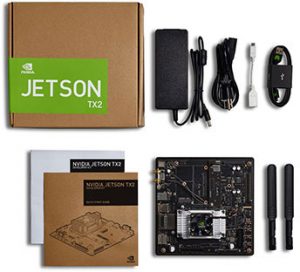 March 20, 2017 – The new NVIDIA® Jetson™ TX2 is a high-performance, low-power supercomputer on a module that provides extremely quick, accurate AI inferencing in everything from robots and drones to enterprise collaboration devices and intelligent cameras.
Harness deeper neural networks in edge devices with twice the compute power, or half the power consumption, of its very capable predecessor, the Jetson TX1. In a module that's the size of a credit card and using less than 7.5 Watts, Jetson TX2 delivers better performance and accuracy for applications like smart cities, AI factories, robotics, and maker prototyping.
To get you up and running fast, Jetson TX2 comes pre-flashed with JetPack 3.0—the most comprehensive developer SDK for AI computing and complex multi-processing embedded application development. Train deep learning models in the cloud, data center, or PC with the newly available NVIDIA® DIGITS™ 5. Then deploy to Jetson TX2 with TensorRT™ 1.0, a high-performance inference engine included in the latest JetPack.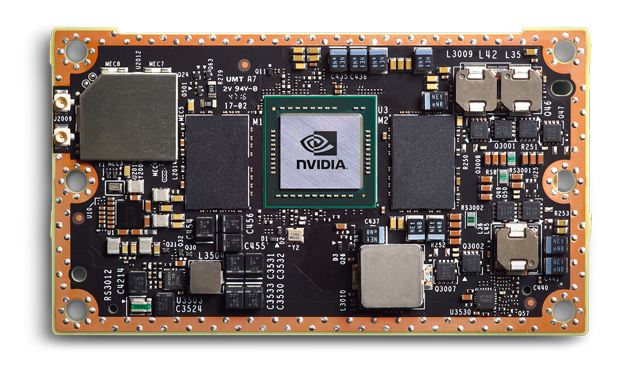 Pre-Order Now
The Jetson TX2 Developer Kit is available for pre-order now, from XENON. Contact us or call 1300 888 030.
Get a Quote
SPECIFICATIONS:
Model
JETSON TX2 MODULE
FEATURES

NVIDIA Pascal™ Architecture GPU
2 Denver 64-bit CPUs + Quad-Core A57 Complex
8 GB L128 bit DDR4 Memory
32 GB eMMC 5.1 Flash Storage
Connectivity to 802.11ac Wi-Fi and Bluetooth-Enabled Devices
10/100/1000BASE-T Ethernet

JETSON CAMERA MODULE

5 MP Fixed Focus MIPI CSI Camera

BUTTONS

Power On/Off
Reset
Force Recovery
User-Defined

I/O

USB 3.0 Type A
USB 2.0 Micro AB (supports recovery and host mode)
HDMI
M.2 Key E
PCI-E x4
Gigabit Ethernet
Full-Size SD
SATA Data and Power
GPIOs, I2C, I2S, SPI, CAN*
TTL UART with flow control
Display Expansion Header*
Camera Expansion Header*

*I/O expansion headers: refer to product documentation for header specification.

POWER OPTIONS
KIT CONTENTS

NVIDIA Jetson TX2 Developer Board
AC Adaptor
Power Cord
USB Micro-B to USB A Cable
USB Micro-B to Female USB A Cable
Rubber Feet (4)
Quick Start Guide
Safety Booklet
Antennas to Connect to Wi-Fi-Enabled Devices (2)