The World's First High-Throughput Reference Architecture for Artificial Intelligence and Machine Learning
VAST Data has just released their state of the art infrastructure design for maximising the GPU power of the NVIDIA DGX A100. The reference architecture provides a real-world proven design for delivering the high throughput required by the NVIDIA DGX A100, the most powerful artificial intelligence appliance ever created.
Just as traditional CPU based processing architecture is not suited to artificial intelligence work, legacy storage architectures cannot meet the IOPS required to feed the DGX A100 GPU beasts.
Success Built on Infrastructure
AI initiatives require access to large data sets. The larger the data set, generally the better the results in training the models and in the inference results. The success of AI initiatives starts with an ability to create simple to use and highly optimised infrastructure for artificial intelligence workloads. Data storage needs to be scalable, fast, and universally accessible.
VAST has addressed this with their Lightspeed solution, providing storage that is 100% flash, which scales equally for capacity and speed, while retaining the ease of use of NAS connectivity.
GPU Direct
VAST Lightspeed links to the NVIDIA DGX A100 using GPU Direct storage, removing the bottle neck of CPU data handoffs. This is truly like drinking from a firehose, as the VAST Lightspeed architecture can deliver data at up to 40TB/s per storage node.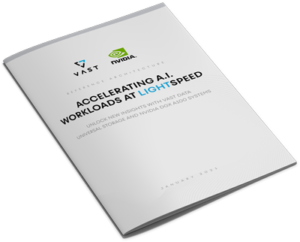 Get The Details
This white paper dives into the details of the VAST Lightspeed reference architecture with the NVIDIA DGX A100, including various workload tests and benchmarks created in partnership with NVIDIA.
Please complete the form below and the white paper will be emailed to you.
Ready for Lightspeed?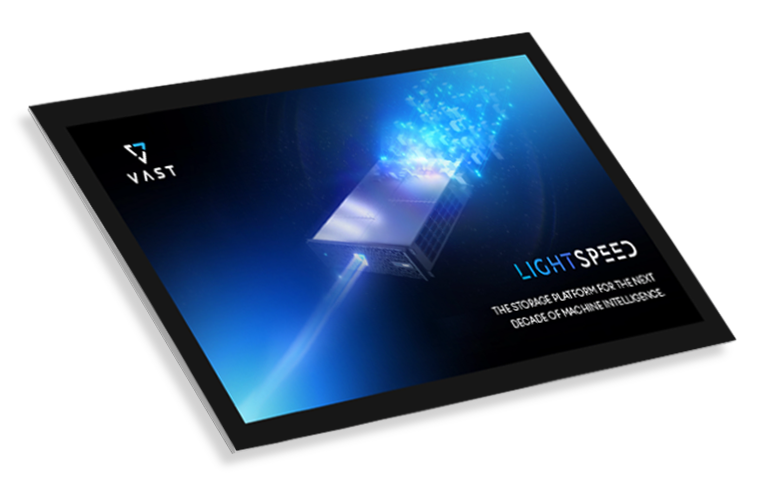 Click on the thumbnail to view the PDF.
If you would like to explore how VAST Lightspeed with NVIDIA DGX A100 can accelerate your AI projects –
Talk to a Solutions Architect